Commute Options
Commuters in Spokane County have many options when it comes to leaving their cars at home. Why drive alone to work, when there are less expensive ways to get there? But don't just take our word for it. Check out the Commute Cost Calculator to determine what your commute actually costs and how much you could save by using one of seven other commute modes.
Riding the Bus
Leave the driving to someone else and arrive at work relaxed for a change. Timely, comfortable, and affordable, riding the bus is a great way to commute. It allows you to catch up on the important aspects of your life that you just can't do when you drive alone like reading a book, making a grocery list, playing a game on your phone, checking emails or just catching a few zzzz's.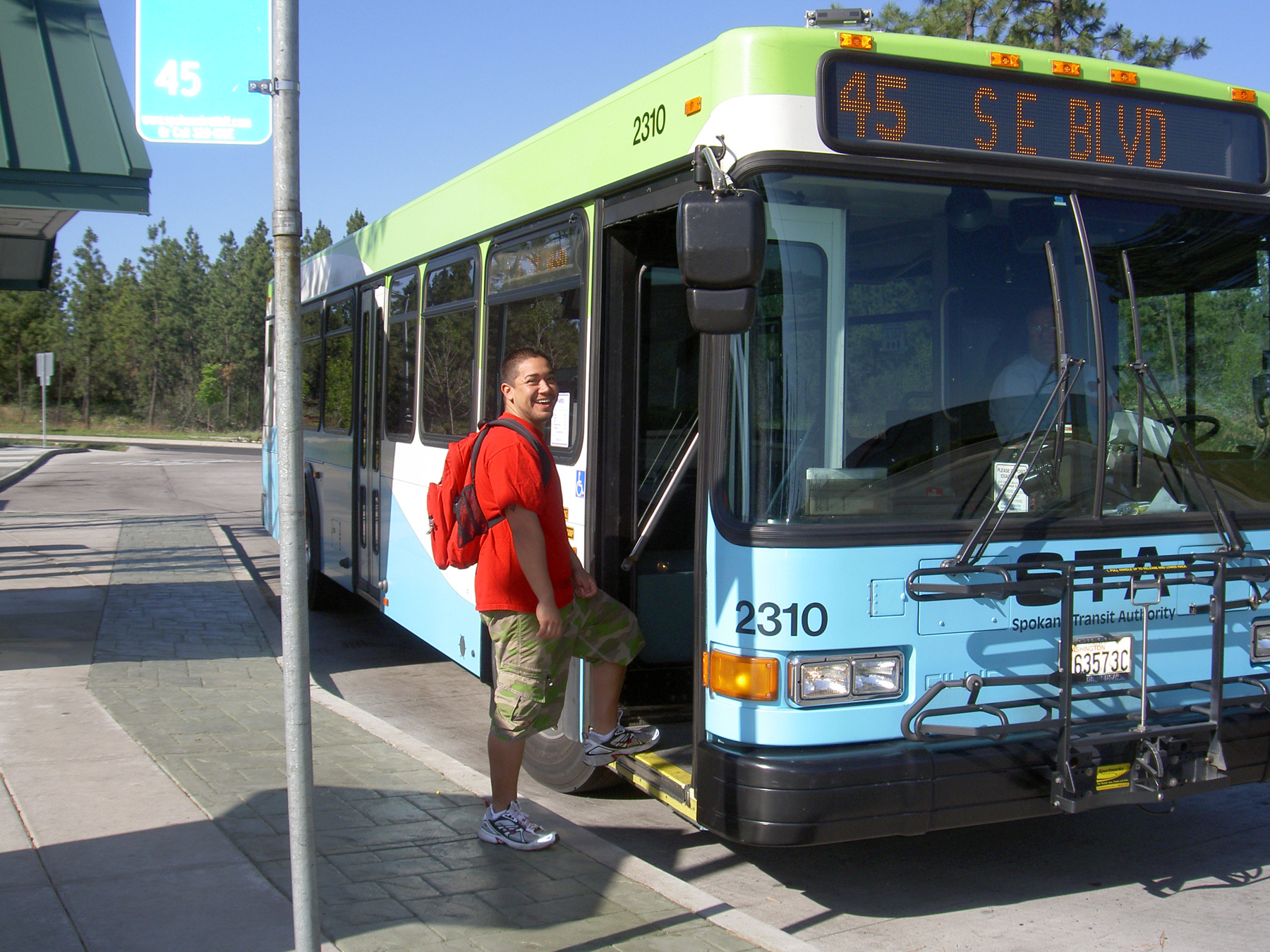 Spokane Transit has over 40 bus routes serving the communities of Spokane, Spokane Valley, Liberty Lake, Millwood, Medical Lake, Cheney and Airway Heights. In addition, two shuttle routes serve the downtown core and the hospital facilities. Adult monthly bus passes can be purchased for $60.00 at the STA Plaza downtown, online or click here for more details and options. Check with your Employee Transportation Coordinator at your worksite to see if your employer offers bus subsidies. For information on bus schedules, click here or use STA's Trip Planner. It's easy and convenient! Click here to plan your trip.
Fourteen area Park and Ride lots also make it handy to leave your car behind and let Spokane Transit do the driving. All of Spokane Transit's park and ride lots are well lit and secure. Just park your car, get on the bus, and go. You can save money on parking downtown, and sometimes your insurance premium goes down if you don't drive your car to work. Be sure to check with your insurance carrier.
If you've thought about riding your bike to work but don't want to go the whole distance, you can utilize the Bikes on Buses program. STA provides bike racks on all their buses with the exception of the Plaza/Arena Shuttle. Whether you are going to work, school or play, you and your bike can ride the bus. For directions and a tutorial on loading your bike on a bus click here.
Give transit a try! It's easy, relaxing, and you'll save money!

Resources
STA Routes & Schedules - Riding the bus is easy and convenient. Find the route and schedule that works best for you.
STA Public Rideshare Info - Why put miles on your personal car, when you can put them on a STA owned van?
STA Park and Ride Lots - Don't live near a bus stop, go to the nearest park and ride and catch the bus.
Bike Map provided by Spokane Regional Transportation Council
CommuteFinderNW - find a carpool partner or join a vanpool
Telework - find out more and how to get a telework program started