Guaranteed Ride Home (GRH) Orientation Course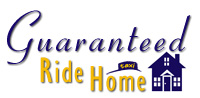 In order to ensure successful implementation and effective administration of Spokane's GRH Program, each participating worksite will receive a complete set of materials to implement, promote and manage the program, during the Guaranteed Ride Home Orientation Course.
In this one-hour course, GRH Program Coordinators and Back-up Coordinators will learn about the program and the critical role played by the Coordinators. Attendees will receive Spokane's GRH Program Employer Guide, a binder which includes detailed descriptions of program policies, responsibilities and administration.
One of the keys to a successful Guaranteed Ride Home Program is making sure every employee knows about the program and how it works. Pre-printed promotional materials will be distributed, along with tips for marketing the GRH Program to employees.
Once the GRH Program Agreement is signed and the initial deposit is received, the employer should enroll the GRH Program Coordinator and Back-up Coordinator(s) in the Guaranteed Ride Home Orientation Course. Classes are scheduled periodically, in order to meet demand.
GRH Program Coordinators and Back-up Coordinators must complete the Orientation Course prior to implementing the program at the worksite, unless prior training arrangements have been made with Spokane County CTR staff.
Registration for the GRH Program Orientation Course is required. Call Kim Stolz at the Commute Trip Reduction Office at 477-7169, for more information and a schedule of upcoming courses.