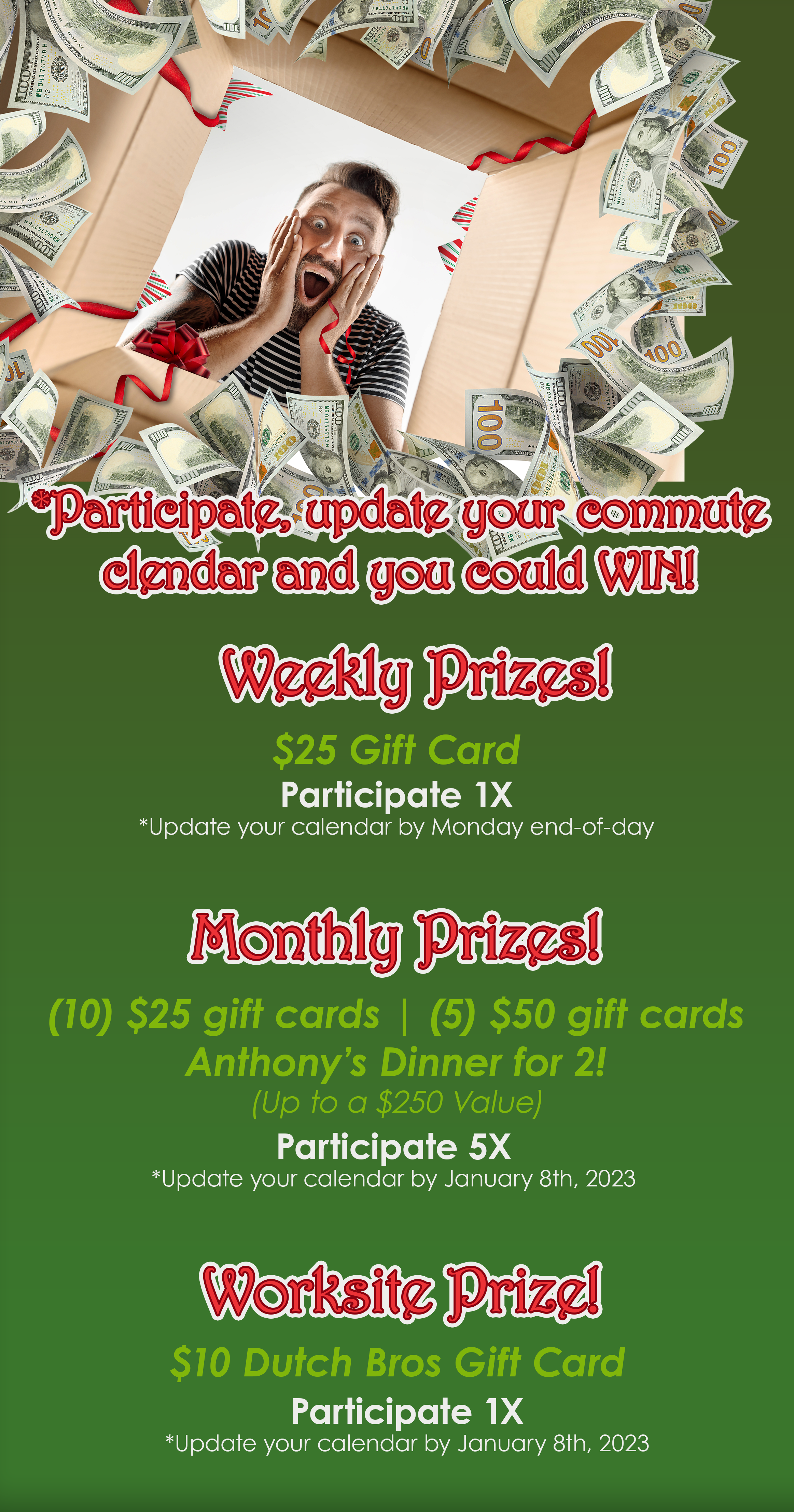 After filling your gas tank and purchasing all those holiday what-nots, what better way to treat yourself than the gift of saving money?
This December, choose a commute that you'll love unwrapping! Carpool, walk, ride the bus, vanpool, bicycle, telework, or work a compressed schedule, you'll save money and could WIN over 20 different prizes! Plus, you'll help "Cut the Congestion" and reduce air pollution making for a merrier commute indeed!
Every week you'll have a chance to WIN a $25 gift card, just participate once and update your calendar by Monday! You'll also be included in the monthly worksite prize to WIN a $10 Dutch Bros gift card; every worksite will have a winner!
Participate 5X during December and make sure to update your calendar you'll be included in a drawing to WIN 1 of 15 gift cards (10) $25 and (5) $50 or the grand prize, a dinner for 2 to Anthony's (up to $250).
Special thanks to our supporting sponsors!


Resources
STA Routes & Schedules - Riding the bus is easy and convenient. Find the route and schedule that works best for you.
STA Vanpool Info - Why put miles on your personal car, when you can put them on a STA owned van?
STA Park and Ride Lots - Don't live near a bus stop, go to the nearest park and ride and catch the bus.
Bike Map provided by Spokane Regional Transportation Council
CommuteFinderNW - find a carpool partner or join a vanpool
Telework - find out more and how to get a telework program started