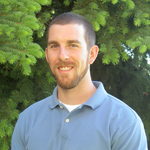 Will Worrall
All Star Coach June 2008
Employer: Fairchild Air Force Base

As an Environmental Engineer and ETC for nearly 2,900 employees, Will Worrall at Fairchild Air Force Base, is continuing to strengthen and grow his participation numbers in their already successful CTR program. Since becoming the ETC less than a year ago, he has coordinated and facilitated the start up of 5 new vanpools, with a total of 14 vanpools at FAFB now. Bus ridership has also tripled!

His promotional efforts resulted in 92 new participants utilizing the rideshare and transit voucher program. Overseeing the voucher program, it reimburses employees for their vanpool expenses up to $115 and 100 percent on transit passes. His greatest challenge is that the base is so big. To help assist with promoting CTR, he has Unit Environmental Coordinators in each department. Meeting quarterly, they help hang poster, flyers, send out email messages and get the word out about CTR campaigns and special events.

"I really like being able to do my part in reducing cars off the roads, saving employees' money and helping the environment all at the same time," Will enthusiastically said. Heavily promoting Bike to Work Week and riding his bike all week, he had 21 registered participants in the promotion which placed FAFB as one of the top four work places to participate in the promotion. FAFB also won an Honorable Mention which is 2nd place for the 2008 White House Closing and Circle Award for Alternative Fuel and Fuel Conservation in Transportation. The awards package submitted was based heavily on the CTR Program. Way to Go Will!