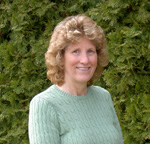 Kathy Garrity
Most Valuable Commuter March 2008
Employer: Sacred Heart Medical Center

For almost four years, Kathy Garrity, Medical Transcriptionist for Sacred Heart Medical Center, has been teleworking and eliminating her five mile commute to work. Working at home has many benefits for Kathy, including keeping the heat at the temperature she likes, playing the music she likes and having her work station exactly the way she likes. She also enjoys more time to herself by not having to drive to and from work. In addition, she doesn't have to spend as much money on her wardrobe, since she is not in the office.

With some flexibility with her hours, Kathy is rarely sick. If she is sick, she can usually power through it, taking breaks when needed and still being able to get all her work done, which is a great benefit for Sacred Heart. "I can't imagine going back to the office," smiled Kathy. "I hurt my back a few years ago and it helps so much to be able to stretch it when it starts to hurt and not worry about distracting my co-workers."

Helping the environment and traffic congestion are also a plus for Kathy. She consistently fills out her CTR calendar on MyCommute.org and also fills out her husband's who works a compressed work schedule. ETC Lori Barschig says, "Her positive attitude and dedication totally shines!" Way to Go Kathy!