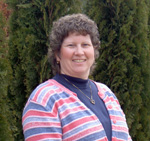 Kelly Pinkerton
Most Valuable Commuter February 2008
Employer: Safeco Insurance

As the vanpool driver, Kelly Pinkerton, Total Loss Claims Assistant for Safeco Insurance, has been enjoying her commute to work daily for four years. As the driver, Kelly also helps with the daily log and scheduling the maintenance on the van. With a 12-mile one-way commute and 5 employees in her vanpool, she is always looking and seeking out other employees to join.

Kelly enjoys many benefits including getting to know others better, the great conversation on the way to and from work, saving money and less wear and tear on her car. She also takes pride in helping to reduce traffic congestion and air pollution. "I have less stress driving the vanpool then when I drive alone," explained Kelly. "It's great to have others to talk with and it makes the commute go much faster."

Going the extra distance to make vanpooling work, Kelly schedules the van to arrive approximately 20 minutes early, so employees in the phone center have time to get there coffee and get ready for their day. ETC, Al Atencio, says "Kelly has a great attitude and sees the importance of using a commute alternative. She is eager to help others find a better way to get to work." Way to Go Kelly!