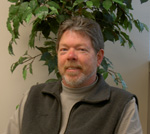 Dan Finn
Most Valuable Commuter January 2008
Employer: Spokane County

With a 23-mile one way commute to work, Dan Finn, Human Services Coordinator for Spokane County, began carpooling with his wife 12 years ago. Going the extra distance and to make it easier on his wife, he has her drop him off downtown and he walks up to his office on 8th Avenue. Overcoming challenges with frequent offsite meetings, Dan plans ahead to carpool with other employees or walk to meetings.

"It just makes sense to carpool," smiled Dan. "I also get the added benefit of my wife reading books allowed so we can both enjoy them." Another benefit he enjoys is being able to talk about the day during the commute then leaving it behind so he can enjoy his evenings. Environmentally sensitive, Dan and his wife combine errands, so they don't have to come into town as often. In addition, he installed solar panels at his home to conserve energy.

Besides enjoying the extra time with his wife, Dan also enjoys the money savings and less wear and tear on his cars. ETC, Don McDowell says "His enthusiasm is quite evident. He always fills out his calendar and talks up the benefits to other employees." Way to Go Dan!