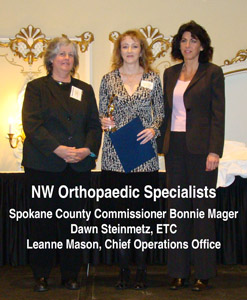 2007 Way to Go Awards
Pinnacle Award Winner December 2007
Employer: Northwest Orthopaedic Specialists

Northwest Orthopaedic Specialists and ETC, Dawn Steinmetz received one of three coveted 2007 Pinnacle Awards at the Way to Go Awards Ceremony on January 16 at the Davenport Hotel. Northwest Orthopaedic Specialists has a successful and solid CTR program that has only been in place for one and half years. Dawn enthusiastically promotes their CTR program benefits to over 100 employees. CTR benefits include an in-house guaranteed ride home program, reduced parking fees for carpoolers, showers, lockers and strong management support.

With a CTR budget, ETC, Dawn Steinmetz has monthly prize giveaways for participating employees, including a $5 coffee card, $25 movie card and $50 gas card. With an innovative approach to meet, get to know employees better and promote CTR, Dawn implemented a Who's Who program. Featuring two employees a month, she posts their story and picture on several bulletin boards throughout the worksite, always highlighting their commute mode or trying to recruit a carpool partner for them. In addition, Dawn asks featured employees to donate a prize for the CTR program which brings a lot of excitement and generates a lot of conversation about CTR among employees.

During the annual Rideshare campaign in October 2006 and the Find Another Way campaign in October of 2007, this worksite increased the miles not driven by over 22%, eliminating over 5,500 miles!

Teleworking twice a week, carpooling as often as possible, using a commute alternative to get to meetings outside the office and being part of the management team, Dawn leads by example and shows employees how easy it is to use a commute alternative. Way to Go!