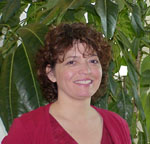 Chrystal Young
All Star Coach March 2003
Employer: Airway Height Corrections Center
Occupation: Secretary Administrative
Hobbies: Skiing, Mountain Biking & Traveling
Being located in a remote area with limited transportation choices and round the clock schedules, doesn't keep Chrystal Young from promoting the benefits of commute alternatives to her 568 employees. The keys to her success are keeping her CTR program fresh and keeping her enthusiasm high.
Offering incentives through a CTR tracking calendar also keeps her employees motivated. For everyday they use a commute alternative, they receive a point. At the end of the month, employees are able to spend their points in their prize store. "The employees really like this element of the program and they love shopping for their prizes!" smiled Chrystal Young, ETC.
Tracking her CTR participants has just become easier. Chrystal recently developed an Access database, which allows her to link with other programs, track carpool numbers, parking and more. "I'm so excited about the endless possibilities of this program," explained Chrystal. "It's streamlined my work which allows me to do more personal follow-ups with my participants." Way to Go Chrystal!