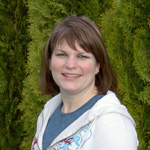 Tracy Gonser
Most Valuable Commuter October 2007
Employer: Safeco Insurance
Occupation: Unit Manager

Looking for ways to save money, in addition to helping the environment, Tracy Gonser, Unit Manager for Safeco Insurance, started carpooling with her husband every day. To take it a step further, they sold one of their cars and are now a one car family. Even though it's a short distance to work, she really enjoys the extra time with her husband. Giving back to the community by reducing air pollution and traffic congestion are very rewarding to Tracy.

One car payment, one car insurance bill and one gas bill is another benefit and savings she enjoys. To begin carpooling daily, Tracy had to adjust her work schedule. In addition, she and her husband have to plan ahead for appointments and errands since they only own one car now. As a manager she is very aware of the program and supports her employees who use commute alternatives. "I hope everyone tries to use a commute alternative at some point," smiled Tracy. "Someday our children's children will thank us for the choices we make today."

Support ETC, All Atencio nominated Tracy and says "She is a respected manager in her department and is setting an outstanding example for employees to follow." This summer Tracy hopes to start riding her bicycle to work. Way to Go Tracy!