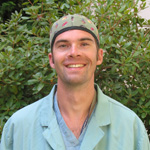 Josh Wolfe
Most Valuable Commuter August 2007
Employer: Sacred Heart Medical Center
Occupation: Surgical Technologist

For over six years, Josh Wolfe, Surgical Technologist for Sacred Heart Medical Center has been riding his bicycle to work. From March – October, on a compressed work schedule, Josh rides four days a week and during the winter months he rides as often as weather permits. Before riding his bike, Josh walked to work. Moving a little further out he knew walking wouldn't be an option and thought it would be a great opportunity to start riding his bicycle.

As a teen, Josh used to ride his bike 50-60 miles a day. When he started riding again, he realized how much he really liked it. Riding mostly for his health, he also feels there is not reason to pollute the air if you don't have to. "For me, it's the most sensible thing to do," Josh stated matter of factly. "It's a great way to go and I wish more people would do it." It takes him the same amount of time, if not less, to ride his bike to work instead of driving to work.

About a year and a half ago, Josh got in an accident on his bicycle. The cars in front of him, going down a hill, slammed on there breaks and so did Josh. Sliding, he endowed over his bike. He separated his AC joint, cut his lip and still has a bump on his elbow. It didn't stop him though he got back on his bike the very next week and still promotes riding a bike to other employees. "Josh's ongoing advocacy for CTR and commitment to air quality is a great example for everyone to see!" beamed ETC, Lori Barschig. Way to Go Josh!