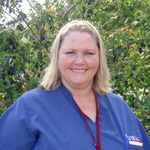 Terri Turner
Most Valuable Commuter April 2007
Employer: Northwest Orthopaedic Specialists
Occupation: Recovery Room Nurse

Between parking costs and gas, Terri Turner a Recovery Room Nurse for Northwest Orthopaedic Specialists, saves over $75 a week by carpooling to work. About 18 months ago, Terri's husband negotiated a schedule change so he could carpool with his wife. Carpooling every day with a 20 minute commute, they both enjoy less wear and tear on their cars and the extra time they get to spend together.

"The best thing for me is I don't have to drive, hassle with traffic or parking and I get dropped off at the front door," Terri enthusiastically explained. Her enthusiasm bubbles over to other employees too as she brags about the benefits of saving money, reduced parking fees and less stress. Knowing carpooling doesn't work for everyone and with the Medical Shuttle stopping right in front of there building, Terri takes every opportunity to encourage employees to give the bus a try too.

Being on a different floor than the ETC, Terri is a huge advocate for the CTR program. Very successful in recruiting, Terri helps get new participants signed up and familiar with MyCommute.org. "Terri is vivacious, talks excitedly about our CTR program and is always willing to help out any way she can," smiled ETC, Dawn Steinmetz. Way to Go Terri!