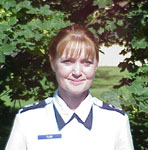 Mariam Flock
Most Valuable Commuter April 2003
Employer: Washington Air National Guard
Occupation: Occupational Health & Safety Manager
Hobbies: Reading and family events
Carpooling at least 15 days during the month with her husband and neighbor, Mariam Flock helps eliminate nearly 1,600 drive alone miles and over 87 pounds of pollution from being emitted into our air each month.
A founding rider of the first vanpool at Washington Air National Guard, it only made sense to start carpooling when she got married and moved 53 miles from work over a year ago. "The benefits of spending time together and saving money out weight everything else," smiled Mariam. "It just doesn't make sense to take two cars if we don't absolutely have to." Her dedication is apparent when she comes in early to work and occasionally waits in the evenings because of her husband's schedule.
"For her, carpooling is a way of life and not just an alternative," proudly stated Charlie Cinq Mars, ETC, Washington Air National Guard. "She extols the virtues of carpooling and vanpooling to all who will listen and she backs it up with her actions," Way to Go Mariam!