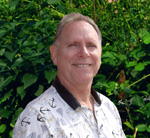 Greg Taylor
Most Valuable Commuter March 2007
Employer: Safeco Insurance
Occupation: Senior Umbrella Underwriter

Living 33 miles away, Greg Taylor, Senior Umbrella Underwriter for Safeco Insurance was concerned with a lengthy commute when he was offered a job at Safeco. Not willing to drive an hour each way to work or sell his home and move closer, Greg successfully negotiated working from home. With a dedicated phone and DSL line, he has only received two pieces of mail in the last six months and has only gone into the Liberty Lake office three times.

Working from home five days a week, he enjoys many benefits including taking breaks and getting work done at home, saving at least $300 and setting his own schedule to work late or early as needed for his job. Not driving 1,300 miles a month definitely reduces the wear and tear on his car too. "I do miss the personal interaction with fellow workers," stated Greg. "My dog is not much of a conversationalist and I think he gets tired of hearing me talk," further chuckled Greg.

Very enthusiast, he highlights the energy savings, removing cars off the road and helping the air quality with other employees. "Greg is so excited about working from home and he has a clear understanding of why it is so helpful to our environment," smiled ETC, Helen Peterson. "He is paving the way for others to telework in the future." Way to Go Greg!