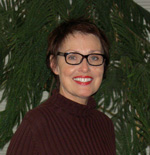 Sharon Simons
Most Valuable Commuter December 2006
Employer: Spokane Transit Authority
Occupation: Administrative Receptionist

An advocate of Public Transportation, Sharon Simons, Administrative Receptionist for Spokane Transit has been riding the bus for 39 years. She started riding the bus in the fall of 1968, when it cost a quarter to ride. She said she would buy a roll of quarters and they lasted about a month. "The buses back then were gold and white with a manual gear shift, and leather seats," reminisced Sharon. On occasion, Sharon also walks to and from work. It's common to see Sharon walking or riding the bus on her days off as well.

Considering herself an inner city resident, Sharon likes the mobility she has to get around town without her car. She has made it a priority to live close to a bus route as she has lived in several areas of Spokane and Spokane Valley. Owning a vintage 1969 Volkswagen Beetle with a sunroof, Sharon rarely drives it to work. She worries about getting door dings or scratches and prefers to leave it safe at home.

Sharon finds the bus dependable and feels STA has wonderful coach operators. She arrives to work on time and knows if the winter roads are slick, the bus will get her where she needs to go. "Sharon provides a wonderful example to fellow STA employees," says Anne Irmer, ETC. "She is a faithful bus rider, walker and works a compressed work week, a true advocate for commute alternatives." Way to Go Sharon!