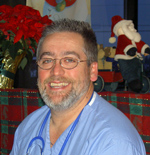 Larry Sullivan
Most Valuable Commuter November 2006
Employer: Valley Hospital & Medical Center
Occupation: Registered Nurse

Can you imagine a 20-mile commute in the dark on your bicycle? Larry Sullivan, a registered nurse at Valley Hospital & Medical Center began riding his bicycle to work four years ago, March – November, at least 2 or 3 times a week and even more during the summer months. Working 12-hour shifts on a compressed work schedule, Larry rides in the dark for half the year.

Riding 15 of the 20 miles on the Centennial Trail, Larry enjoys the scenery and animals while riding his bicycle. The most dangerous animal to watch for is the little bunnies hopping across the trail. Larry has always enjoyed riding his bicycle, but wanting to train for Century rides and getting in shape, motivated him to starting riding to work. "When I can't ride, I carpool with my wife," said Larry. "I really miss it when I don't ride. It starts and finishes my day on a positive note." He averages about 5,000 miles a year riding to work.

Last summer, Larry rode his bicycle from Seattle to Washington DC for an American Lung Association fund raiser. Riding 3,500 miles, his contributions helped raise $280,000. Liz Kennett, ETC for Valley Hospital says, "Larry truly leads by example and proves that very busy nurses on crazy schedules can find other ways to get to work." Way to Go Larry!