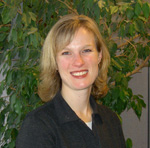 Margee Chambers
All Star Coach December 2006
Employer: Spokane Regional Clean Air Agency
Occupation: Public Information Specialist

A true advocate for clean air, Margee Chambers, ETC for Spokane Regional Clean Air Agency, coordinates her daycare schedule so she and her 2-year old son can ride the bus home. Getting the whole family involved, Margee and her husband also only own one car.

Of the 20 employees at this voluntary site, 14 regularly use a commute alternative to get to work. CTR program elements include bus subsidies for employees who ride the bus at least 60 percent of the time during the month, candy incentives and monthly prize drawings. Other incentives Margee offers is home made pastries for employees who take her up on her challenge to use a commute alternative. A box of "intrigue" with a surprise gift inside displayed for the month also gets employees motivated.

Making a huge impact in our community, Margee works closely with the CTR office to promote and bring innovative ideas and campaigns to over 150 CTR worksites in Spokane County. "I appreciate all the ETC efforts to help reduce tail pipe emissions which cause over half of our air pollution," commented Margee. "It's a lot of fun presenting and working one on one with the ETCs who make a difference." Margee's positive and "can do" attitude are keys to her continued success for clean air. Way to Go Margee!