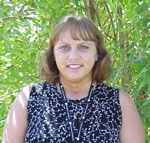 Susan Brown
Most Valuable Commuter May 2003
Employer: Group Health Cooperative
Occupation: Third Party Analyst
Hobbies: Baking, cooking, reading and walking
Being hired in the winter and not wanting to drive up the Sunset Hill, motivated Susan Brown to ride the bus to work nearly three years ago. Living in Post Falls, Susan drives to the Liberty Lake Park and Ride lot where she catches the bus to the STA Plaza. Her dedication truly shines as she has a 20-minute lay over before catching another bus to get to work.
The bus has become a business and social network for Susan. "I've met some wonderful people while commuting on the bus," said Susan. "Plus I act as an ambassador for Group Health by fielding questions and referring people to the correct departments." Having time to read one to two novels a week and not hassle with traffic are just a few other added bonuses for Susan.
"Her enthusiasm and dedication to riding the bus is inspiring," smiled Jamie McManus, ETC Group Health Cooperative. Way to go Susan!