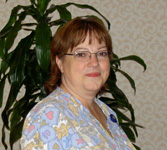 Dorothy Smith
Most Valuable Commuter September 2006
Employer: Sacred Heart Medical Center
Occupation: Environmental Service Aid

Five days a week for over ten years, Dorothy Smith from Sacred Heart Medical Center has been riding the bus. When she began working weekends, the bus schedule didn't accommodate her work schedule. She persevered and after chatting with the CEO, her schedule was changed to allow her to continue riding the bus.

Finding parking at Sacred Heart is very stressful and when her car broke down, she thought it would be a good time to give the bus a try. After her first bus ride she immediately thought, "It was pretty cool," and decided to continue. Saving money, convenience, and not having to drive in bad weather are additional benefits Dorothy enjoys. "The security on the bus is wonderful," said Dorothy. "I don't have to worry about other drivers or road rage incidents."

Dorothy loves meeting and talking to people on the bus and has a group of friends she enjoys chatting with during her commute. Lori Barshig, ETC, says "Dorothy is a huge advocate for STA and riding the bus. Her commitment and dedication to our CTR program is a shining example for others." Way to Go Dorothy!