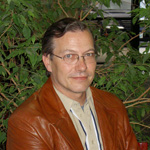 Ray Smith
Most Valuable Commuter August 2006
Employer: West Corporation
Occupation: Morgage Consultant

Since March of 2003, Ray Smith from West Corporation, has been riding his bicycle to work all year round. With studded snow tires for his bicycle, the only thing that stops him is when the ice gets too bad. From his home or when he stays to care for his disabled sister, he averages about 18 miles one-way each day. Last year, Ray put approximately 53,000 miles on his bicycle. Not only using his bicycle to get to work, Ray uses it on the weekends for leisure too.

After fixing up his car and motorcycle for show, Ray was concerned about door dings and scratches by parking at work, so he began riding his bike. Being hit by a car on four different occasions, has not stopped Ray from riding his bicycle. "People ask me why I keep riding and I ask them why they continue driving if they've been in a car accident," said Ray. "I like it. It's fun."

Over the years, Ray has convinced 20 other employees to ride their bicycles to work, not as frequently, but he got them started. "Ray is one of my biggest supporters at West," said LaNette Thelin, ETC. "He encourages other employees and I wouldn't have such a good turnout of participants if it weren't for him." Way to Go Ray!