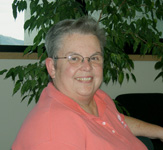 Cy Parker
Most Valuable Commuter July 2006
Employer: EWU/WSU Riverpoint Campus
Occupation: MBA Program Coordinator

For nearly ten years, Cy Parker from EWU/WSU Riverpoint Campus, has been using commute alternatives. Currently carpooling at least three days a week, Cy feels "It's the right thing to do." As a CTR committee member, she believes if she is going to encourage others to use commute alternatives then she must use one herself.

A friend who is mentally challenged and his only choice of transportation is the bus, inspired Cy to give it a try. Once giving it a try, she found it was convenient and cost effective. With knee difficulties, Cy starting carpooling, but continues to ride the bus to the Cheney campus for meetings and also on the weekends to go downtown.

Starting the printer cartridge recycling program at EWU/WSU, Cy receives approximately $15 - $25 a month for the CTR program. She regularly brings baked good for the CTR committee and also offers them as incentives to CTR participants. In addition, she raises funds at the annual bake sale each year for the CTR program. "Cy demonstrates a tremendous amount of dedication, enthusiasm and support for our CTR program," proudly stated, Teresa Kruger, ETC at EWU/WSU Riverpoint Campus. Way to Go Cy!