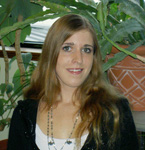 Selina Shehan
All Star Coach September 2006
Employer: Rings & Things
Occupation: Graphic Designer & ETC

Walking her talk, Selina Shehan, ETC, for Rings and Things, sets an outstanding example for her employees to follow. An already dedicated walker, Selina's priority for buying a new home recently was making sure it was within walking distance to work. Voluntarily promoting CTR at their worksite, the owners support plays a key role in the success of the CTR program. Of the 89 employees at Rings & Things, 60 regularly use a commute alternative to get to work including the owners.

Another key to this worksite's success are the CTR program elements offered to employees including, on-site banking, showers, lockers, indoor bicycle parking, full kitchen, washer and dryer, internet access, flexible schedules and exercise equipment. With a $50 budget and receiving bonus incentives from office supply companies, Selina continually keeps CTR at the fore front of her employees. Designing posters and offering prize packages each month keeps it fresh and fun!

Selina takes pride in promoting CTR to her employees and that Rings & Things is environmentally friendly and doing something for the community. "It's very impressive the grass-roots effect that this program has at Rings & Things. Not only are employees using commute alternatives, but they are talking about it and promoting it amongst themselves," smiled Selina. Way to Go Selina!