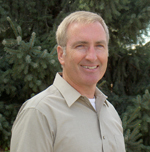 Tim Willoughby
All Star Coach June 2006
Employer: Washington State ESD Telecenter
Occupation: Adjudicator Supervisor

Promoting commute trip reduction to nearly 150 employees, Tim Willoughby, Adjudicator Supervisor and ETC for Washington State ESD Telecenter, successfully started his first vanpool this spring. First hearing that STA had new vans, Tim decided to try and get one started. Through persistency and communication through e-mails, Tim recruited 12 employees to begin vanpooling.
The primary driver and accountant for the van, Tim is proud to have quadrupled the worksite miles not driven from May 2005 to May 2006, going from 718 to 2,886 miles not driven. Tim has always been interested in environmental issues, so promoting commute alternatives is a good fit for him. "I enjoy talking to employees about their commute options and the benefits they can look forward to. My greatest challenge is changing the mind set of employees who think they have to drive to work alone," stated Tim.
With great management support, Tim's management team not only regularly contributes to countywide promotions, but also stayed late and painted parking slots for carpools and vanpools. Way to Go Tim!