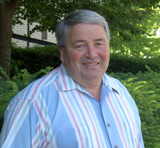 Albert LePage
Most Valuable Commuter May 2006
Employer: Spokane County Air Pollution Control Authority
Occupation: Air Quality Specialist

When looking for a new home eight years ago, Albert LePage, Air Quality Specialist for Spokane County Air Pollution Control Authority, made it a priority to live close to work so he could ride the bus. "I didn't like driving on the freeway and when I got home from work I would be agitated," explained Albert. "Now I enjoy riding the bus every day."
Knowing all the bus drivers and enjoying talking to people, Albert can't see any negatives to riding the bus. Benefits of riding the bus include convenience, it's comfortable, it's always clean and in the summer it's always cool and in the winter it's always warm.
Albert encourages other employees to ride the bus and points out all the benefits. When employees complain about gas prices and parking, he takes advantage of telling them about using commute alternatives and the many benefits they would enjoy. Margee Chambers, ETC, says Albert is such a faithful bus rider, five days a week. He is enthusiastic and a true advocate for commute alternatives." Way to Go Albert!