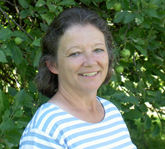 Daryl Howe
Most Valuable Commuter April 2006
Employer: Hollister- Stier
Occupation: Documentation Specialist

Working a compressed work schedule of 4-10's, Daryl Howe, Documentation Specialist for Hollister-Stier enjoys carpooling with her husband four days a week. With only one four-wheel drive vehicle and a 31-mile commute, Daryl began carpooling during the winter months eight years ago. "After the winter, it just made sense for us to continue carpooling," smiled Daryl.
Daryl enjoys the money she saves, the reduced wear and tear on her vehicles and helping to keep our air clean. Both Daryl and her husband have overcome challenges with their schedules to make carpooling work for them. With Daryl as the primary driver and working about 15 minutes away, they must leave early to ensure Daryl arrives to work on time. In the evenings, her husband waits about 15 minutes after he gets off work.
Enjoying extra time with her husband and having someone to talk to during her commute makes carpooling even more enjoyable. Keith Vilhauer, ETC, says "Daryl is a great example of other employees. She has proven that a little dedication and sacrifice can pay off on several different levels. Way to Go Daryl!