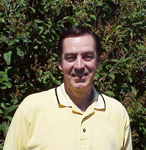 Keith Vilhauer
All Star Coach June 2003
Employer: Hollister-Stier Laboratories
Occupation: Bioligical Quality Assurance Inspector
Hobbies: Fishing, reading and the outdoors
As ETC for three and half years, Keith Vilhauer enjoys helping employees find commute choices that benefit them and our community. Being ETC has been a good fit for Keith, as he has always been pro clean air and doing the right thing.
A member of the CTR Recognition Committee, Keith is an active participant and enthusiastic supporter of countywide events and campaigns. Utilizing e-mail, commute option boards and lunch tables to distribute materials, Keith is continually putting options in front of his employees. During the recent Smart Moves campaign, Keith successfully encouraged the Vice President of Operations to participate in the Executive Challenge.
His dedication and persistence were apparent during the latest CTR Survey. Implementing a tracking system and offering a prize incentive, Keith received a 99 percent return rate on his survey. Way to Go Keith!