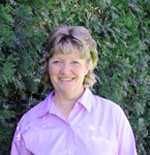 Connie Kline
Most Valuable Commuter March 2006
Employer: Spokane County

With a 54 mile one-way commute, Connie Kline, Levy Specialist, was thrilled when teleworking became an option for her about a year ago. Working a compressed work schedule, Connie was gone from home for at least 12 hours a day. Driving an hour, toward the sun in the summer and driving in the dark in the winter, made her commute very difficult.
Now working from home daily, Connie appreciates only driving to work once a month. She works the same schedule with a set lunch hour. With e-mail, instant messaging and calls forwarded directly to her home, Connie is linked directly to her department. Her incoming documents and correspondence are scanned and electronically forwarded making her job virtually paperless.
"There are no real negatives to working from home," said Connie. "I do miss the friendships I've developed that are now long distance and the goodies when we celebrate something in the office." Don McDowell, Employee Transportation Coordinator for Spokane County says, "Connie has proven that we can accommodate employees with their individual needs and still get the job done." Way to Go Connie!