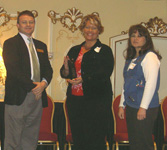 Pinnacle Award December 2005

The third Pinnacle Award Winner, Safeco Insurance, has consistently maintained a well-rounded CTR program. With management support, the ETC, Helen Peterson promotes their CTR program in all new hire orientations, provides bus and vanpool subsidies, preferential parking and a guaranteed ride home program. To take advantage of their CTR benefits and preferential parking, employees must register and fill out their on-line calendar. With 43 designated preferential parking spaces near the entrance, it's a great incentive for employees.
During the Smart Moves – Smart Options campaign in April, Helen personally visited each executive, encouraging them to participate. The success in the campaign was evident with 376 employees participating, growing from 100 participants in 2004.
Changing promotional materials on the Commuting Options Board at least every two weeks keeps it fresh and fun for employees. As a primary vanpool driver for the past six years, Helen sets a great standard for her employees to follow. This year Helen was successful in starting up five new vanpools with a total of ten vanpools at her worksite.
Showing her enthusiasm and creativity, Helen, implemented an incentive for employees when she became the ETC nearly four years ago. Employees now enjoy wearing jeans two times for every 22 days they use a commute alternative. Helen Peterson's dedication and innovation as the ETC have led to this worksite's CTR success.