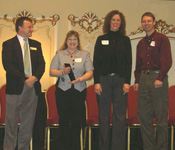 Pinnacle Award December 2005

The first Pinnacle Award recipient, Moss Adams LLC, a Commuter Solutions voluntary worksite, has been a participating worksite since the voluntary program began in 1997. With strong management support, they continually participate in countywide promotions, attend training classes and have successfully kept their program strong.
With a recent ETC change, Moss Adams provided a pizza party for all employees to promote their CTR program and introduce the new ETC, Shawn Lusarreta. With five new participants from the pizza party, CTR is now incorporated into their new hire orientation. Other keys to success for this downtown worksite are bus subsidies and a guaranteed ride home program.
With hectic schedules running an accounting firm, the Managing Partner, Tom Stevenson and, Senior Manager Scott Martin make it a priority to ride their bicycles approximately twice a week during the summer months. With management walking their talk, ETC, Shawn promotes CTR through e-mails, posters and encourages employees to fill out their on-line commute calendar at MyCommute.org, this worksite has seen tremendous growth in 2005. During the Rideshare campaign in October, Moss Adams had a 50 percent increase in miles not driven from the previous Rideshare campaign in 2004.
Another key to Moss Adam's success is the ETC walking her talk. Utilizing a compressed work schedule, working from home and carpooling, Shawn, sets an outstanding example for other employees to follow.