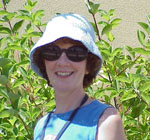 Kathy Colier
Most Valuable Commuter June 2003
Employer: VA Medical Center
Occupation: Program Support Clerk
Hobbies: Gardening
With a one and half mile commute, Kathy Colier has been walking to work daily, all year around for the past eight years. Before walking, she tried carpooling but found that her car wouldn't even warm up by the time she got to work. This was encouragement enough to give walking a try.
Once she started she couldn't stop. "It's been a positive life-style change for me," smiled Kathy. "It's also made me a stronger advocate for clean air in Spokane." Although Kathy has encountered many challenges including rain, snow, hail, and wind, it hasn't stopped her from walking. She's also been bit by a dog and had to get stitches. And more recently she's been dodging a crow that caws and dive-bombs her for part of her commute.
"Kathy always encourages her fellow employees to just try something - carpool, walk, ride the bus – even if it's just once in a while," said Mark Lidbeck, ETC, VA Medical Center. "She's positive, upbeat and a great role model for other employees." Way to Go Kathy!