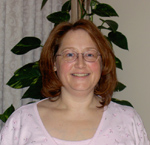 Rebecca Arthur
Most Valuable Commuter December 2005
Employer: Sacred Heart Medical Center

When her car broke down six years ago, Rebecca Arthur, Medical Records Clerk for Sacred Heart Medical Center, began riding the bus. She enjoys saving money on gas, less wear and tear on her car and reaps the benefit of the combined bus subsidy from SHMC and STA.
She likes leaving the driving to someone else and relaxing on her commute. She looks at the different shops and things she can do in Spokane while riding the bus to work. Her trips in her car are very limited, mostly to the grocery store. When she does have errands, she makes sure she combines them into one trip. "I enjoy riding the bus to the different shops downtown, quilt shows and other activities when I'm not working," smiled Rebecca. "The bus is easy and convenient."
Knowing the benefits of the bus, Rebecca convinced her daughter to give it a try when going out to EWU and now she is a dedicated bus rider too.
"Rebecca is so creative with all her trips and is a true inspiration to other employees," smiled Lori Barschig, ETC for Sacred Heart Medical Center. Way to Go Rebecca!