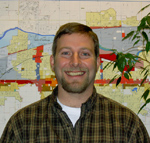 Mike Basinger
Most Valuable Commuter November 2005
Employer: City of Spokane Valley

When it became too dark and cold to ride his bicycle, Mike Basinger, Associate Planner for the City of Spokane Valley, joined a four person carpool. For approximately eight months out of the year, Mike bicycles from the Audubon area down to the plaza, catches the bus and goes to the Valley Transit Center, then finishes his commute on his bicycle.
As a city planner, Mike is always looking for ways to improve bicycle and pedestrian roadways. He took the lead on developing bike routes in Spokane Valley and incorporating them into the City's comprehensive plan. Mike is committed to preserving the environment and having as little impact as possible on the Earth's natural state.
"When I was in college, my professor told me that small changes make a difference," Mikes explained. "And, I've always remembered that."
Mike has been a dedicated bicyclist for 18 years. Morgan Koudelka, ETC for the City of Spokane Valley, says "Mike's commitment to a higher quality of life has inspired many of our employees, and hopes there will be more Mike Basingers to carry us into the future." Way to Go Mike!