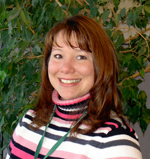 Crystal Alford
Most Valuable Commuter October 2005
Employer: Spokane County Air Pollution Control Authority

For nearly ten years, Crystal Alford, Air Quality Specialist/Inspector for SCAPCA has been carpooling to work. Juggling child care, school activities and work schedules, Crystal goes above and beyond to make carpooling a priority. Meeting her carpool partner at the Mirabeau Park & Ride allows both of them to take the bus home, if the other has an emergency.
Limited parking and saving money has been Crystal's biggest motivator. Sharing the expense of a parking space and receiving a gas voucher is also a great benefit. "There are no excuses for not using a commute alternative," emphasized Crystal. "If you want to make it happen, you can!"
Crystal really enjoys the company when traveling to work and would miss it if she didn't carpool. She also admits it's less stressful when sharing the ride. Margee Chambers, ETC for SCAPCA says "She's very supportive and a huge advocate for our CTR program." Way to Go Crystal!