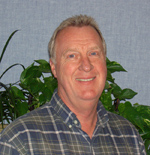 Mark Lidbeck
All Star Coach December 2005
Employer: Veterans Affairs Medical Center

As Employee Transportation Coordinator for eleven years and the Safety Specialist for the VA Medical Center, Mark Lidbeck knows everyone at his workplace. Mark is well known for frequently asking employees about their commute and if he can help them.
Marketing heavily to his 600 employees and with the help of Spokane Transit, Mark started 5 vanpools during the last Rideshare campaign. Receiving 10 - $50 Visa Cash Cards for his efforts, Mark is going to use them to buy incentives. "I enjoy the positive testimonials from the new riders," explained Mark. "It truly motivates me to do even more."
Mark also realized this past year that he couldn't do it all himself. Forming a CTR committee with four employees and himself has made a huge impact on his CTR program. With persistence, Mark received a $600 budget for the year and has already bought enough incentives to give five away each month for the next year. His words of wisdom to other ETCs are "Never give up! No matter what level of management support you have." Way to Go Mark!