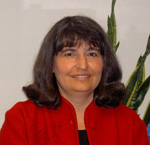 Connie Jack
Most Valuable Commuter September 2005
Employer: Eastern Washington University
Occupation: Secretary for Energy Managment

Using commute alternatives has been a way of life for Connie Jack, Secretary for Energy Management for Eastern Washington University, for 16 years. A dedicated bus rider for the past 7 years, Connie feels it's important to the environment to do her part and it also helps to conserve energy. Connie's philosophy is "If you don't try it, it doesn't happen. One trip makes a difference."
Connie's dedication and commitment to the environment really stand out by riding the bus. With a 26 mile one way commute and a transfer in the valley, it takes Connie 1 1/2 hours to ride the bus to work. If she were to drive alone, it would only take her 35 minutes. She really enjoys visiting and sharing stories with other bus riders, in addition to less stress and leaving the driving to someone else. She has met many new people riding the bus and looks forward to seeing them everyday.
An EWU CTR Committee member for ten years, she promotes it every time she can and has successfully recruited lots of employees to give commute alternatives a try. Ed McIntire, Employee Transportation Coordinator at EWU says "Connie shines because she is consistent in her commitment to using alterative modes, promoting CTR at EWU and is always available to assist in CTR project." Way to Go Connie!