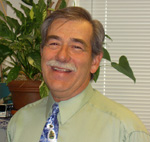 Ross Kelley
Most Valuable Commuter August 2005
Employer: Spokane County
Occupation: Spokane County Engineer

As the Spokane County Engineer, Ross Kelley really puts forth an effort to make bicycling work for him. With early morning and late evening meetings, Ross manages to ride his bicycle to work between 10-15 times each month during the summer months and approximately 60 times over the course of the year. With easier access on his bicycle and no parking hassles, Ross rides his bicycle to different construction sites throughout Spokane County.
Wanting to show his support for Commute Trip Reduction, Ross began riding his bicycle when the CTR Law was implemented in 1993. Enjoying the scenery and looking at the different landscaping throughout the neighborhoods, Ross frequently takes different routes to work. "If I could, I would ride my bicycle every day," Ross smiled. "I encourage people to give it a try on the weekend when traffic isn't so hectic to see how much they enjoy it!"
Ross is continually looking for ways to create pedestrian walkways and bicycle lanes in new construction and also encourages other community leaders to do the same. Don McDowell, Employee Transportation Coordinator for Spokane County, says "as a key leader, Ross demonstrates management support by not only encouraging the use of commute alternatives and helping the community look for more, but by also walking his talk." Way to Go Ross!