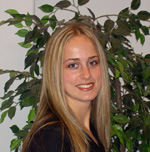 Erica Markham
All Star Coach September 2005
Employer: Pitney Bowes
Occupation: Administrative Assistant & ETC

Setting a positive example for employees to follow, Erica Markham, Employee Transportation Coordinator for Pitney Bowes, walks her talk by carpooling to work daily.
As ETC for one year and helping with the CTR program for two, she enjoys the enthusiasm of her co-workers who use commute alternatives. "I love to hear my employees' testimonials," smiled Erica. "It makes me proud of what I'm doing."
With management support, she markets many CTR benefits to over 425 employees including preferred parking for carpoolers, bus subsidies, showers, covered bicycle racks, new hire orientation, a web page on Pitney Bowes' intranet site, in addition to participating in all regional campaigns and events. To kick off the fall weather, Erica made fall leaves and put a piece of candy on each one with a note for employees to "Fall into a Commute Alternative."
Erica's greatest challenge is finding enough time to put into the program. The key to her success is working on it a little bit every day, which in the end adds up to a lot. Erica goes the extra mile by filling out her employees on-line commute calendars for them. Her words of wisdom to other ETCs are "Keep going for your goal! When it gets tough, just pick yourself up and keep trying." Way to Go Erica!