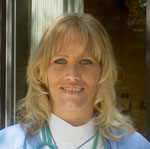 Jennifer Shaver
Most Valuable Commuter June 2005
Employer: Valley Hospital & Medical Center
Occupation: Patient Care/Nursing Assistant

Jennifer used to drive alone to work until one day, her car broke down and she just happened to notice the "Cash In On MyCommute.org" campaign poster. She went to her ETC to ask for more information on how to participate and to register for the online calendar. Liz Kennet, ETC for Valley Hospital, helped her fill out her calendar and Jennifer was the lucky winner of a cash card the very first month she participated!

Even though her car is now fixed, Jennifer keeps walking to work because she feels like she is being lazy if she doesn't and she says that Liz's constant encouragement and rewards helps her to keep motivated. "The cash cards were a great incentive" says Jennifer and she has even encouraged a few other employees in her unit to try a commute alternative and register on mycommute.org.

ETC, Liz Kennett, says that "Jennifer is an advocate for the CTR program. She walks every day, rain or shine, and promotes the CTR program with her enthusiasm for walking as well as the fun in participating in the CTR campaigns". Way To Go, Jennifer!