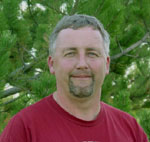 Andre Wamsley
Most Valuable Commuter July 2003
Employer: EWU/WSU - Riverpoint
Occupation: Custodian
Hobbies: Bird and wildlife watching & RC cars
Saving money on gas with less wear and tear on his car are just a few reasons why Andre Wamsley carpools to work everyday. With a 23 mile commute, sharing the ride with his wife allows him more quality time with her. They are able to talk more and it helps them wind down after work.


Andre goes the extra distance to make carpooling work. He waits an hour after work for his wife and she comes in an hour early. "It's convenient, fun and it makes sense," smiled Andre. "With a 2 1/2 mile dirt road, it also saves on cleaning the cars and dust."


Andre is an enthusiastic and loyal supporter of CTR. He always submits his calendars on time, enters all promotions and talks the program up with other co-workers. "You won't find a nicer, friendlier, more dedicated proponent of CTR who walks his talk so earnestly," proudly stated Susan Lopez, Program Manager, EWU/WSU Riverpoint. Way to Go Andre!