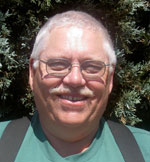 George Leppert
Most Valuable Commuter May 2005
Employer: WA State DSHS - CSD Region 1
Occupation: General Repairman

George is the general repairman for 15 DSHS regional offices in Eastern Washington which means he's required to travel great distances to service these 15 worksites and is no stranger to long-distance driving.

6 years ago, on a whim, George started to ride the bus. When George's daughter's car broke down, he loaned her his car. Being one car down, he asked his daughter to buy him a bus pass just to try it for a month. It didn't take long for George to realize how easy it was for him and saving over $200 a month didn't hurt either. George puts the savings aside for family vacations.

"I like the people I ride with and we have become a family" says George. They have a great rapport with the regular drivers and his supervisor allows him to flex his start time to catch the bus. The office keeps a utility van at work for his business which eliminates the need for a personal vehicle during the day.

ETC, John Tyson says that "George is the single most consistent user of commute alternatives. He is cognizant of the savings and convenience and is a dyed-in-the-wool transit user. His 21 day use of transit is factual and he has no equal". Way to Go George!