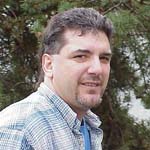 Tom Calder
Most Valuable Commuter January 2005
Employer: Eastern Washington University
Occupation: HVAC Technician

With a 42 mile one-way trip from his home in Riverside, carpooling only made sense for Tom. Soon after he started working at EWU, he began looking for a carpool partner, and was he successful! Tom as been carpooling for 4 years, five days per week.

As the primary driver, Tom quickly found two other employees to start carpooling with. An additional two employees soon joined his carpool making it a four-person carpool.

This carpool does not go with out challenges though. Two of the carpool partners have changing shifts. Typically there are 4 guys carpooling, but two have changing shifts, so each week one carpools and the other doesn't.

One of his carpool partners meets him at his house, another gets picked up at Yokes or if he's not riding the other gets picked up a Hastings park and ride, and the fourth one gets picked up at Holy Family.

Money and convenience keep Tom carpooling. Mostly talking about work and family, Tom enjoys the friendships he has gained through the years of carpooling!

ETC, Ed McIntire, says Tom is determined to maintain his carpool no matter what the obstacles. He's it in for the long haul! Way to Go Tom!