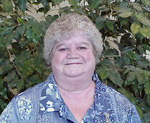 Marie Munden
Most Valuable Commuter December 2004
Employer: Eastern State Hospital
Occupation: Medical Transcriptionist

Can you imagine not owning a car? Maria Munden, a dedicated bus rider, has been car-free for over 22 years. When first moving to Spokane, her car broke down and she hated the traffic. Riding the bus was easy and convenient. She credits STA for giving her the ability to have a job by being able to ride the bus to work.
Maria is an avid spokesperson for STA too. Before the STA sales tax initiative passed, Marie got people involved by talking to co-workers. She even talked to students on the bus and encouraged them to talk to their parents about voting for the initiative. "I keep riding the bus because it works for me and it's always dependable," smiled Maria. "I really enjoy the bus drivers and the people I've met over the years."
Her daughter, who works at Pine Lodge, also rides the bus. The ride to and from work gives them special time together. They also enjoy the company of the many co-workers that share the same bus ride. "It's amazing how she has been able to make public transportation a way of life and fit it into her life schedule," said Shirley Maike, ETC, Eastern State Hospital. "She is a true leader for our employees." Way to Go Marie!