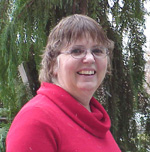 Donna Shaffer
Most Valuable Commuter November 2004
Employer: EWU/WSU - Riverpoint
Occupation: Office Assistant 3

The bus was easy and convenient when Donna Shaffer began riding six years ago when she lived in Cheney. She also saves on parking costs and has less wear and tear on her vehicle. After moving to Spokane a year and a half ago, she decided to give bicycling a try. She currently rides her bike about eight months out of the year and rides the bus the other four.
"It's a great way to get exercise in," explained Donna. "It also takes me less time on my bicycle than it does the bus." If the weather turns bad, she knows she can always get home utilizing the bikes on bus program through STA.
As a CTR committee member, Donna continually talks to employees about the CTR program and encourages them to give a commute alternative a try. She is responsible for recruiting at least five employees to participate in the past two months. "She is one of the best salespeople for our program," beamed Teresa Kruger, ETC, EWU/WSU – Riverpoint. Way to Go Donna!