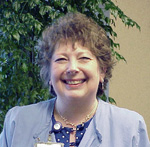 Dolores Housam
Most Valuable Commuter October 2004
Employer: Valley Hospital & Medical Center
Occupation: Housekeeping

Carpooling five days a week with her husband, Dolores Housam eliminates nearly 2,400 drive alone miles and over 125 pounds of carbon monoxide from being emitted into our air each month. Saving money by buying less gas is what started Dolores carpooling over 13 years ago.
Not only does she save money, she helps to contribute to cleaner air. "Moving so far away gave me a deeper appreciation for the environment and the air we breathe," said Dolores. "I can see the difference in the air from where I live to the city's." Dolores has also overcome challenges too. Working with her employer, she has been able to adjust her schedule so there is not much lag time with her husband's schedule.
"Dolores is upbeat, positive and consistently encourages other employees to try a commute alternative," smiled Liz Kennett, ETC, Valley Hospital & Medical Center. "She was instrumental in encouraging two employees to give carpooling a try and they've been carpooling ever since." Way to Go Dolores!