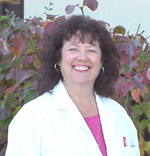 Linda Griffiths
Most Valuable Commuter September 2004
Employer: Vallley Hospital & Medical Center
Occupation: Medical Secretary Transcriptionist

With a rotating schedule between Valley Hospital and Deaconess Medical Center, Linda goes the extra distance to make riding the bus work for her. A ten-mile commute that normally takes 30 minute to drive, takes a 1 to 11/2 hours including walking to her bus stop and riding the bus. Linda says she doesn't mind the extra time it takes to get to work. It gives her a sense of community, it's fun to people watch and it gives her time to relax. She also enjoys the opportunity to get some fresh air.
With 20 years of experience riding the bus, Linda is very comfortable with the transit system. "If I were ever stranded, I know I could find a bus route and get to where I need to go," Linda explained. "I also appreciate the handicap capabilities of STA." Linda has a stepson that is quadriplegic and is now in his twenties, but when he was younger and her family went out they would take the bus. They didn't have to worry about lifting, transferring and storing the wheel chair. The bus made it very simple.
Liz Kennett, ETC for Valley Hospital says "Linda shines because she is our only bus rider and the fact that she is willing to transfer a couple of times to get to work is commendable." Way to Go Linda!