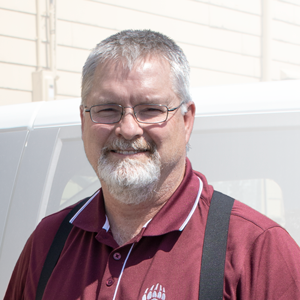 Shawn Woodard, Fairchild Aird Force Base
MVC - Vanpooler May 2018
Employer: Fairchild Air Force Base
Occupation: Natural/Cultural Resource Program Manager

Shawn is the Natural/Cultural Resources Program Manager for FAFB. He's been a dedicated vanpooler for the last 4 years. Shawn began vanpooling when he worked for the USDA in Colfax in 2014. After following the same vanpool on his way home from Colfax, Shawn quickly looked into getting on that van. That van had a 134 mile-round trip each day! Shawn rode that van every day until October 2017, when he began working at FAFB. Although he wasn't going to be traveling 134 miles each day, he still had a 36-mile round trip commute to the base. It only took Shawn 2 days after working at FAFB to contact the ETC, Josh Potter, about getting on another van!
Now when commuting, Shawn enjoys reading the news and relaxing on the vanpool. Prior to vanpooling, Shawn was changing the oil in his car every month, now he does it 2 times a year!
Shawn doesn't feel he has any challenges to overcome with vanpooling, besides having to get up a little earlier. The benefits of saving wear & tear on his car, the money he saves on gas & maintenance and the fact that vanpooling forces him stick to a schedule easily outweigh the fact he has to get up a little earlier. Shawn admits, "I would stay late due to the fact I'm not as organized as I would like, and vanpooling forces me to be better organized and maximize my time at work".
Shawn encourages fellow employees to give it a try. And, why wouldn't they? FAFB offers a fully subsidized vanpool benefit. Shawn says, "anyone that gives vanpooling a chance will like it!"
ETC, Josh Potter, says "Shawn in an enthusiastic supporter of the CTR program and models what it is to be a MVC. In the last year, Shawn's been personally responsible for recruiting 6 new vanpool riders to both his vanpool and other vanpools". Way to go Shawn!