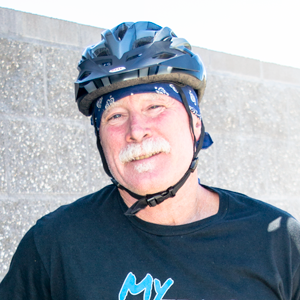 Dan Herbers, City of Spokane Nelson Service Center
MVC - Walks, Bicycles and rides the Bus April 2018
Employer: City of Spokane, Nelson Service Center
Occupation: Solid Waste Collector

Dan is a solid waste collector and has worked for the City of Spokane for the last 32 years! Dan has been multi-modal for nearly all of those 32 years! He has a little over 4- mile commute from the West Central neighborhood. Dan will either walk or bike the first 1+ mile leg of his commute. Then he'll bus the next 2+ miles and will walk or bike the last mile.
Dan doesn't like to be dependent on cars and enjoys the freedom of not having to drive. He sees the traffic backed up on Hamilton each night on his way home, and smiles as he breezes by on his bike!
Dan says, "I drive for a living… I don't want to drive when I get off work"!
Dan is a true advocate for the CTR program at the Nelson Service Center and is basically a walking billboard for using commute alternatives. Employees see him arriving and leaving each day on bike or foot. He's more than willing to help a co-worker with any questions they may have.
Dan has always prided himself on being independent and not having to be tethered to or dependent on a vehicle. Not spending money on a car, allows him to spend money on what he wants; vintage trucks and most recently adding solar panels to his home.
Dan also likes to support a local non-profit bike shop Cool Water Bikes. Most recently purchasing studs, new rims and tires.
ETC, Bob Kaatz, says "Dan doesn't see using commute alternatives as taking any extra effort or having to overcoming obstacles, it's just something he likes to do".
Dan has been logging his trips on MyCommute.org since 2010, and has logged over 1700 trips, equating to saving over 7,100 miles from being driven on our roads! Way to go Dan!