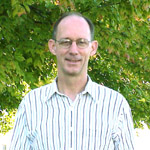 Eric Skelton
Most Valuable Commuter August 2004
Employer: Spokane County Air Pollution Control Authority
Occupation: Director of SCAPCA

Eric Skelton, Director of SCAPCA, has been bicycling to work for 26 years, intermixed with riding the bus. Prior to SCAPCA, a couple of co-workers talked up the benefits and successfully convinced Eric to give it a try. And that's all it took. Eric began riding his bike to work daily.
After moving to Spokane, Eric rode the bus for about 7 years. Although he continued to ride his bike for recreational purposes, he missed the daily routine. When his bus stop moved about three miles away, he took the opportunity to begin riding his bike to the bus stop. He then continues to work by bus and completes his trip by riding his bike from the STA Plaza to SCAPCA. Eric rides all year around and averages only two or three days a month driving alone.
"It's hard to block out time to exercise," said Eric. "Riding my bicycle daily provides the exercise and I really enjoy it." An advocate for the CTR program, he is enthusiastic about setting a positive example for other employees. "He sets the example as a leader by walking his talk," smiled Don McDowell, ETC, Spokane County. Way to go Eric!