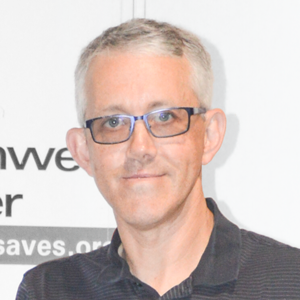 Ron Bailey, Inland Northwest Blood Center
MVC - Bicycles September 2017
Employer: Inland Northwest Blood Center
Occupation: Components Lab Supervisor

Ron is the Components Lab Supervisor for INBC and has been riding his bike to work for the last 8 years. At that time, he was working the night shift and felt like he needed to increase his exercise. He felt safer riding his bike at night because there wasn't as much traffic on the roads. He now works the day shift, but still feels safe with his route.
Ron loves riding his bike! He enjoys being out in the community and saying hello to other walkers and bicyclists along his commute. He says he likes getting the exercise without feeling like he's "exercised" and feels great when he arrives at work. After a stressful day, Ron's completely forgotten about it by the time he arrives home. On days when he doesn't ride, he carpools to work. He says it just makes sense.
Ron ensures he has the necessary clothing and special equipment to ensure he can safely ride. He has studded snow tires for his bicycle so that he can continue riding all winter long. Typically, the only time he won't ride his bike during the winter is when the snow accumulates, and he doesn't have a safe lane to travel in.
Ron has many bikes and has offered other co-workers to borrow one of his if they'd like to give biking a try. He even offers to ride with them and find them a safe route to work.
Ron enjoys the freedom that cycling gives him. In addition, he enjoys the free and ample bike parking. The Blood Center provides a secured bike cage inside the building.
ETC, Shirly Mace, says "for Ron, this is simply a quality of life that he loves to share with others". Way to go Ron!