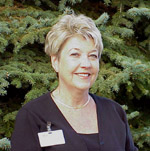 Sharon Sulzle
Most Valuable Commuter July 2004
Employer: Sacred Heart Medical Center
Occupation: Pre-biller/Fiscal Services

With an eight and a half mile commute to work, Sharon Sulzle enjoys relaxing and visiting with her carpool partner. She readily admits she doesn't like driving and says it works perfect because her carpool partner loves to drive. Helping with gas money, Sharon and her carpool partner both enjoy the benefits of saving money.
Originally carpooling with four people eleven years ago, Sharon has overcome many challenges so she can continue to carpool. One of the biggest challenges she faced was when her schedule changed and she began working 4/10s. Teaming up with ETC, Lori Barschig, Sharon and Lori were able to persuade her carpool partner's boss to change her shift to 4/10s. "I would hate to give up carpooling," smiled Sharon. "I love the company, it's easy and it also helps the environment."
Sharon continually speaks to employees about how great she has it and encourages them to give carpooling a try. Lori Barschig, ETC states, "Sharon is a positive role model for our CTR program at Sacred Heart." Way to Go Sharon!